What is Bitrix24?
Bitrix24 - an online workspace designed to replace all of the SaaS solutions you might be using with a single cloud-based service.

With over 12 million users, Bitrix24 is one of the world's most popular business software solutions. It's available 99.99% of the time in 17 languages on any device and platform.

At the heart of Bitrix24 is CRM, complete with four other components. Tasks and projects to help you manage your work and your team, even remotely.

Collaboration to communicate and collaborate online. Sites and stores to create beautiful websites and landing pages. HR and automation to help you build efficient workflows.

All these components are cross-integrated and work as part of a single ecosystem. Let's take a closer look. For example, you can process orders and accept payments online, run marketing campaigns and analyse sales data. 

VIRTUAL OFFICE
A single platform for your company to work, communicate and collaborate, even remotely.
TASKS AND PROJECTS
From Kanban to Agile and everything in between, Bitrix24 has the tools to manage your tasks and projects all the way to success.
CRM
Bitrix24 is a modern CRM and marketing automation platform.
CONTACT CENTRE
Real time customer support and contact management solutions incorporating all communication channels.
SITE AND STORES
Template-based website builder to help you create beautiful sites and SEO-ready online stores – all integrated into your CRM. No coding skills and graphic design required.
What we offer and how we can help?
 We would like to join you on your journey to efficiency by signing you up with Bitrix24 and guiding you in your implementation process.
 We believe in the product we sell & use it ourselves and have implemented it for more than 150 companies. 
 FullView Solutions is a Bitrix24 Gold Certified Partner in South Africa 

So, what makes Bitrix24 different?
It's an

all-in-one

solution.
It streamlines your

processes

.
It brings your

team together

.
It increases

productivity

.
It drives

sales

.
Super charge your Business with Bitrix24 today!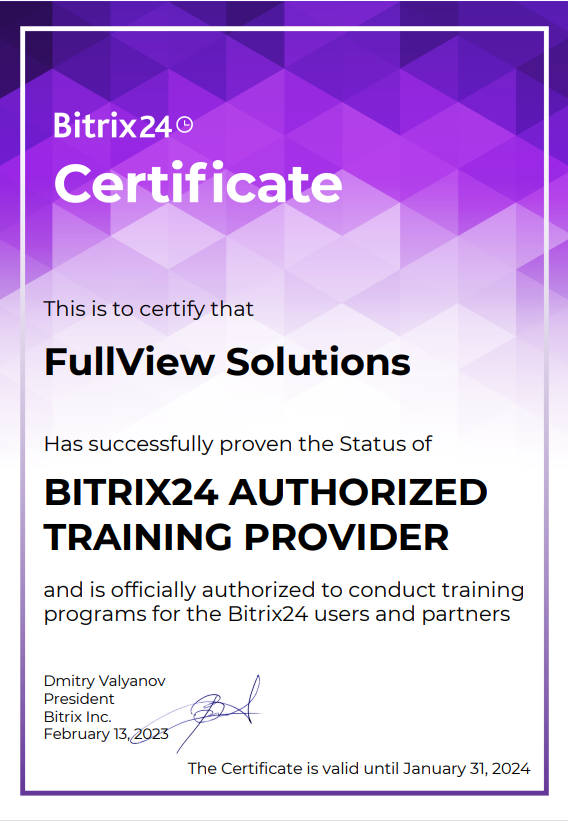 Training Partner Certification