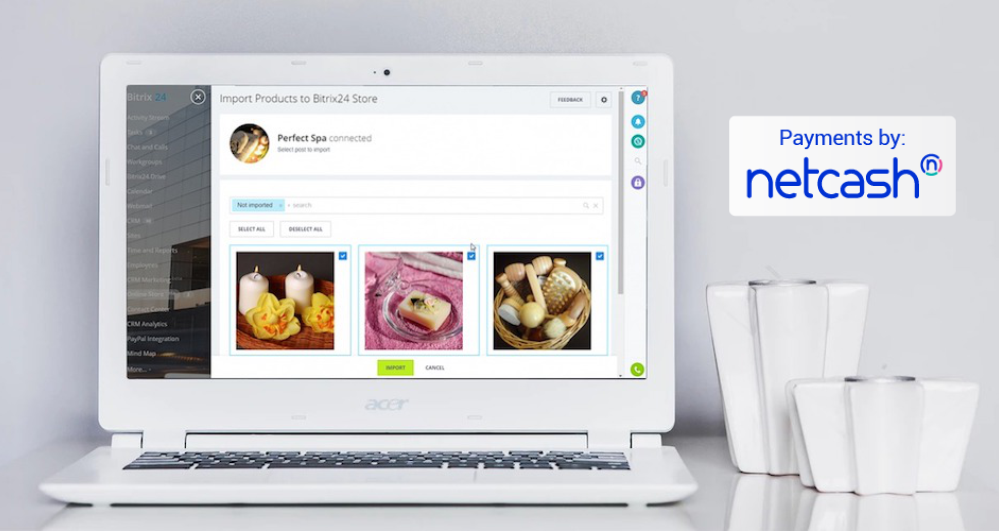 Selling online in South Africa, has just become easier with the Bitrix24 online store and the Netcash Pay Now Gateway app. You can now accept multiple online payment methods from your Bitrix24 eCommerce website with the Netcash's Pay Now Gateway.
Key Features
Multiple online payment methods
Accept multiple online payment methods from your Bitrix24 eCommerce website with Netcash's Pay Now Gateway in South African Rands. Selling online is made simple. Your Netcash account can now be integrated into Bitrix24.

No sign-up cost
There are no initial costs for the complete solution, al you need is a commercial version of Bitrix24 to use the integration – just register and start selling.

Secure payments
The ability to offer your clients multiple payment methods using South African Rands in Bitrix24, increases the likelihood of payment being made. Payment methods included are Instant EFT, Bank EFT, Credit and Debit Card, Cash Payment, QR Payment and Visa click to pay.

Templates to setup store
Choose from multiple templates to build your online store in minutes.

Local support
With Bitrix24 being an international product, FullView can provide you with local support in your own time zone and language.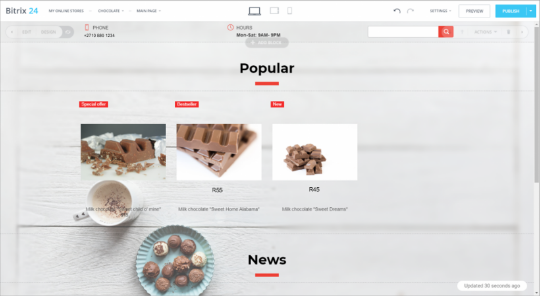 Why Bitrix24 online stores?
Receive orders from social networks, communicate with customers, arrange payment and delivery using CRM.
A handy wizard will help you create a store in a matter of minutes! Click the "Create" button, add products to the catalog, place a link to the store in social networks and take orders.

No need to understand, look for specialists or draw up a technical specification - any employee can handle it!

Read more and get some instructions to quickly build your own store here.
Or contact us for a FREE demo.
TOP 6 REASONS WHY CUSTOMERS BUY ONLINE
Customers can purchase items from the comfort of their own homes or work place. Shopping is made easier and convenient for the customer through internet. It is also easy to cancel the transactions.


Saves time and efforts.
Convenience of Shopping at home.
Wide variety / range of products are available.
Good discounts / lower prices.
Get detailed information of the product.
We can compare various models / brands.
Source: I-Cube 2006, a syndicated product of IMRB International.
WHY ONLINE STORES?
Before the economy was hit by Covid-19 the number of e-commerce sites were already growing rapidly. With Covid-19 limiting our access to stores, online stores came to the resque to a lot of businesses.


Lower operating costs
Track your customers
Improve your customer experience
Expand your reach 
E-commerce allows your company to punch above its weight against much larger competitors and expand your geographic reach beyond your community to your region, the whole country or foreign markets.


Source : www.bdc.ca

The story behind the app
Why did we develop this app?
Up to now, the only online payment options for a Bitrix24 Online store was USD based. To avoid sacrificing a part of your profit due to commissions converting from USD to ZAR, Philip Pretorius, FullView Solutions owner and developer, realised the need for a South African Payment gateway for Bitrix24 Online stores.

After contacting various South African Payment Gateways FullView partnered with NetCash for the development of a custom integration with Bitrix24 using the Netcash online payment platform. Now, Bitrix24 online store owners have the ability to offer their clients multiple payment methods using South African Rands in Bitrix24, increasing the likelihood of payment being made.

Contact Us
Submit your enquiry and we will contact you!
A consultant will contact you about your request and setup a date for an one hour complimentary introduction consultation.
As your Bitrix24 Gold partner we are available for support with your configuration and implementation as well as licence purchases. The benefit of being a FullView Solutions Customer:
You can pay for your Bitrix24 licence in ZAR

Save up to 5% on bank and forex fees

10% discount on consulting fees

Access to our in-app Bitrix24 Chat support

Local support in English or Afrikaans
Contact Info
31 Main Road, Linden Extension, Randburg, Johannesburg, South Africa
Prices are excluding VAT and calculated on the Rand/Dollar exchange rate for BUYING.
Prices may be adjusted withing reason with fluctuation of this rate.
Implementation and training will be quoted separately.